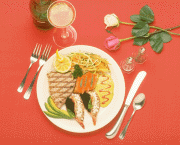 ---

各国の自慢料理を英語で説明を聞き実演を見ながら、受講者にも実際に料理を作ってもらいます。現実の場面から、単なる架空の練習では出来ない必要から生じる会話を身に付けてもらいます。
そのあとはもちろん、会話を楽しみながら一緒に食事です。


(予約制) 梅田で受けても難波で受けても入会金無し(準会員. 以下税込)  会費3000円前後/回(150分)
---


新鮮な食材が揃ったらいよいよ料理の開始です。



---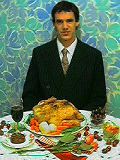 レッスン例1: イギリスのクリスマス料理

 ・ローストターキー
  スタッフィング(ハーブやスパイスを混ぜたもの)
 ・ローストポテト
 ・温野菜
 ・グレービーソース(肉汁のうまみのあるソース)









レッスン例2: ケーキづくりとティーパーティ
 ・スコーン
 ・ジンジャーブレッドマン
 ・ロールケーキ
 ・ババロア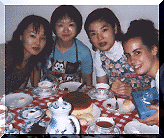 TV番組での紹介







小栗左多里氏が当校の梅田校を取材されたときに描いて頂いたレポートマンガです。難波校にも来て下さる予定です。


10月28日(日) 12:00〜3:00pmの英語の堪能なイタリア人講師によるイタリア料理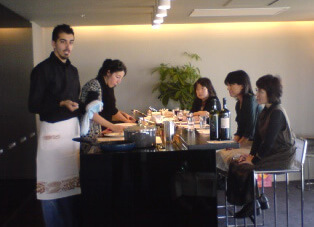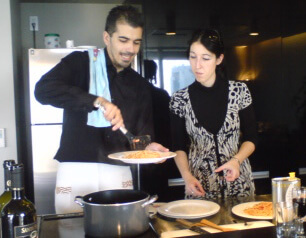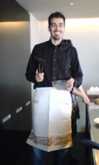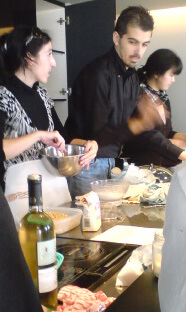 当日のレシピ
イタリア語
英語
Bruschette

Ingredienti per 2 persone

4 fette di pane
1 spicchio di aglio
olio extravergine d'oliva
100g di pomodori a pezzetti
basilico
sale
pepe

Tostate il pane e, ancora caldo, strofinate un lato con lo spicchio di aglio tagliato a meta. Spargere un poco di olio sul pane. Mettete un po' di pomodoro a pezzetti su ogni fetta, condite con sale, pepe e olio di oliva e decorate con una fogliolina di basilico.

Aggiunte
formaggio
funghi
pancetta
origano

Pesto Genovese

Ingredienti per 4 persone

100g di basilico
20g di pinoli
30g di Parmigiano
4g di aglio
olio extravergine d'oliva
sale

Mettere i pinoli in una padella e abbrustolire per qualche minuto. Mettere in un tritatutto l'aglio e tritare. Poi aggiungere le foglie di basilico e sale e tritare. Aggiungere i pinoli e il Parmigiano e tritare fino a che non diventa uniforme. Versare il composto in un contenitore, aggiungere l'olio e mescolare bene con un cucchiaio.

Bruschette

Ingredients for 2 people

4 slices of bread
1 garlic clove
extra virgin oil
100g of chopped tomatoes
basil
salt
pepper

Slightly toast the bread and, when still hot, rub a side with the cut half of the garlic. Pour a small amount of oil on the bread. Put some chopped tomato on each slice, add salt, pepper and olive oil and decorate with a basil leaf.


Extra
cheese
mushrooms
bacon
oregano

Pesto Genovese

Ingredients for 4 people

100g of basil
20g of pine nuts
30g of Parmesan cheese
4g of garlic
extra virgin oil
salt

Put the pine nuts in a pan and brown for a few minutes. Put the garlic in the blender and mince. Then add basil leaves and salt and mince. Add pine nuts and Parmesan cheese and mince until the mix becomes even. Pour the mix in a container, ad olive oil and mix well with a spoon.

Spaghetti all'amatriciana

Ingredienti per 2 persone

200g di spaghetti, 250g di spaghetti se non si prepara il secondo
60g di pancetta
200g di polpa di pomodori (meta lattina circa)
olio di oliva extra vergine
peperoncino
sale
piccola cipolla a pezzettini

Versare un poco di olio extra vergine in una padella. Aggiungere la pancetta e far dorare per qualche minuto. Aggiungere la cipolla tagliata a pezzettini e mescolare con la pancetta. Aggiungere la polpa di pomodoro, 2 pizzichi di sale e un pizzico di zucchero. Mescolare bene e far cuocere a fuoco basso per qualche minuto. Aggiungere il peperoncino e mescolare bene. Scolare la pasta e metterla in padella; mescolare bene e servire. Come aggiunta si puo spolverare con del Parmigiano Reggiano.

Mandorlotti

350g di zucchero
200g di farina, se possible setacciata
3 albumi
200g di mandorle
carta da forno

Preriscaldare il forno a 180oC.
Mettere gli albumi in una ciotola, aggiungere lo zucchero e mescolare bene. Aggiungere poco a poco la farina e mescolare bene. Tagliare le mandorle in pezzi, aggiungerle all'impasto e mescolare bene. Mettere carta da forno nella teglia. Mettere sulla carta da forno piccole dosi di impasto ben distanziante le une dalle altre. Infornare per 15 minuti circa.

Spaghetti all'amatriciana

Ingredients for 2 people

200g of spaghetti, 250g if no main dish is being prepared
60g of bacon
200g of chopped peeled tomato (half a can)
extra virgin oil
chili pepper
salt
small chopped onion

Pour a sprinkle of extra virgin olive oil in a frying pan. Add bacon and brown for a few minutes. Add the chopped onion and mix with the bacon. Add the chopped peeled tomato, 2 pinches of salt and a pinch of sugar. Mix well and cook on low fire for a few minutes. Add chili pepper and mix well. Drain the pasta and put it in the frying pan; mix well and then serve. As an extra you can sprinkle some Parmesan cheese on top.

Mandorlotti

350g of sugar
200g of flour, if possible sifted
3 egg whites
200g of almonds
oven paper

Preheat the oven to 180oC. Pour the egg whites in a bowl, add sugar and mix well. Slowly add flour and mix well. Cut the almonds in pieces, add them to the mix and mix well. Put oven paper on a baking pan. Pour onto the oven paper small portions of the mix well distanced from one another. Bake for about 15 minutes.




英語のレシピの一例:
APPLE PIE BROWN
Recipe
Serving Size: 4
Preparation Time: 0:00
Categories:

-----FILLING:-----
Amount
Measure
Ingredient
Preparation Method
6 to 8
Granny Smith apples
peeled cored & sliced
1
cup
sugar
1/2
cup
brown sugar
2
tablespoons
cinnamon
1/4
cup
cornstarch
1/2
cup
lemon juice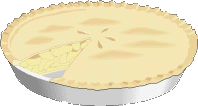 -----CRUST:-----
Amount
Measure
Ingredient
Preparation Method
2
cups
all-purpose flour
Pinch of salt
2/3
cup
butter
1
cup
sharp Cheddar cheese
grated
Directions:
FILLING: Mix all ingredients and let stand while making crust.

CRUST: Mix flour, salt and shortening until crumbly. Add Cheddar and 6 tablespoons water
mixing thoroughly between each. Mix until ball is formed.
Should be moist, not sticky. Roll 1/2 dough out on floured board and line 9 inch deep pie dish.
Pour in filling. Roll out 2nd half and top pie.
Trim and crimp edges. Prick top with knife. Bake at 375 degrees for 25 minutes.
For golden crust, brush with 1 egg, beaten with a tablespoon of water.


Home